Antidepressant Drug Side Effects

The following information comes to you courtesy of the Citizens Commission on Human Rights International. Any questions or complaints, please feel free to contact them at their link above.
"The U.S. Food and Drug Administration warns that antidepressants can cause suicidal thinking and behavior in children and young adults. Common brand name antidepressants include Paxil, Prozac, Zoloft, Celexa, Luvox, Wellbutrin, Cymbalta, Effexor, Lexapro, Elavil, Remeron, Sarafem, Trazodone.
The risks of these drugs are provided so the public can make informed, educated decisions.
---
Antidepressant Side Effects Reported to the FDA:
There have been 124,320 Adverse Drug Reactions in connection with antidepressants that have been reported to the FDA's Adverse Event Reporting System (MedWatch), between 2004 and 2011.The FDA estimates that less than 1% of all serious events are ever reported to it, so the actual number of side effects occurring are most certainly higher.These include: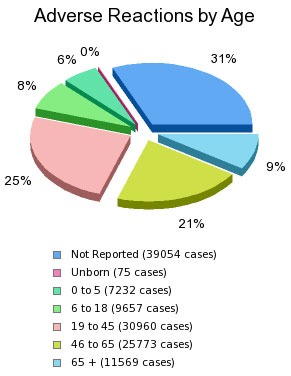 13,642 cases of suicidal ideation/behavior (completed suicides, suicide attempts)
11,508 cases of withdrawal symptoms
7,553 cases of anxiety
6,786 cases of depression
4,530 cases of agitation
3,588 cases of aggression
2,872 cases of birth defects
2,676 case of hallucinations
1,649 cases of self-harm (self-injurious ideation/behavior)
1,247 cases of death/sudden death
1,122 cases of amania
797 cases of sexual dysfunction
733 cases of coma
546 cases of diabetes
511 cases of homicidal ideation
328 cases of hostility
265 cases of physical assault
212 cases of homicide
94 cases of violence-related symptoms
82 cases of stillbirths
46 cases of psychosis
Drug Agency Regulatory Warnings:
There have been 99 drug regulatory agency warnings from ten countries and the European Union on antidepressants causing:
Abnormal bleeding
Agitation
Anxiety
Birth defects
Convulsions
Death
Depression
Hallucinations or delusional thinking
Heart rate decreases
Homicidal ideation
Impaired driving ability
Mania/psychosis
Restlessness
Risk of breast cancer
Risk of falls in elderly
Self-harm
Serotonin syndrome
Sexual dysfunction
Spontaneous abortion
Suicide/risk/attempts
Tremor
Violence
Weight gain
Withdrawal symptoms
Drug Studies:
There have been 119 studies published from twelve countries on antidepressants causing:
Abnormal bleeding
Aggression/hostility
Agitation
Akathisia
Anxiety
Birth defects
Death
Depression
Diabetes
Homicidal ideation or actions
Hyperactivity
Impaired driving ability
Increase in muscle activity
Mania/psychosis
Premature births
Restlessness
Risk of falls
Serotonin syndrome
Sexual dysfunction
Spontaneous abortion
Suicide/risk/attempts
Violence
Weight gain
Withdrawal symptom


Documented Side Effects of Antidepressants:
Abnormal bleeding/bruising
Abnormal thoughts
Agitation
Akathisia (severe restlessness)
Anxiety
Black tongue
Blurred/changes in vision
Coma
Confusion
Crushing chest pain
Decreased memory/concentration
Delirium
Delusions
Depression
Difficulty breathing or swallowing
Dizziness/faintness

Emotional numbing
Extreme restlessness
Fainting
Hallucinations
Heart attacks
Hostility
Hyperactivity
Hypomania
Insomnia
Lethargy
Liver problems
Low white blood cell count
Mania
Manic reactions
Memory lapses
Mood swings
Muscle spasms
Nervousness
Neuroleptic Malignant Syndrome
Nightmares
Numbness in extremities
Panic attacks
Paranoia
Psychotic episodes
Sedation
Seizures
Severe headache
Severe muscle stiffness
Sexual dysfunction
Shakiness
Shuffling walk
Slow/difficult speech
Stroke
Suicidal thoughts/behavior
Violent behavior
Weight gain
Yellowing of skin/eyes
If these statistics do not disturb, I don't know what will. However, studies prove that the body does respond well to high quality micronutrients, good nutrition, exercise, stress relief techniques, and sleep.
Livin' Life eXponentially!